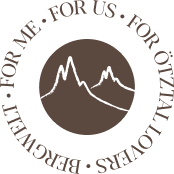 Summer vacation in Ötztal

Breathtaking mountain scenery, warm rays of sun, and countless excursion destinations – that is your summer in Ötztal. In the middle of the Tyrolean Alps, you will find numerous hiking trails and bike tours. Astonishing mountain lakes provide the desired cooling after sunbathing, and the next adventure is always within reach.
The ****Hotel Bergwelt is an Ötztal Summer Card partner. With us, guests experience an all-inclusive summer vacation at its best. You can use the card until the evening of your departure day starting on June 3 – October 3, 23. Excluded on the day of arrival.
With the Summer Card you have 1 free daily ascent and descent per cable car.
1x daily entry per swimming pool/lake
2x entry for 3h per card (without sauna) in the AQUA DOME starting on June 3 - 30.06. & September 1. - 03.10.2023
Single entry per card to AREA 47 (Water Area), second free entry to AREA 47 (Water Area) starting on June 3. – June 30 & September 1. - 01.10.2023
1x daily admission per museum in the Ötzi Village Umhausen, in the Bird of Prey Park, and in the Ötztal Nature Park.
Free presentations
Free participation in the Ötztal Nature Park hiking program
1x daily admission to the Nature Park House in Längenfeld
Unlimited travel with public transport (incl. bike transport to Obergurgl – not over the Timmelsjoch)
1x daily every toll road with the public bus
The mountains are calling. Amidst spectacular scenery, numerous alpine adventures await you. With a total of 1,600 km (994 miles) of hiking trails, 100 cabins and alpine pastures, as well as 250 peaks above 3,000 m (9,842 ft), Ötztal is a true paradise for all hiking enthusiasts. Are you ready for unforgettable mountain experiences and moments of happiness?
3 special hiking trails, 3 different difficulty levels, 3 experiences you don't want to miss. They are more than just hiking destinations – they are impressive memories. If you're looking for an easy tour, the Brand-Burgstein-Längenfeld circular hike is the perfect nature experience for you. As a medium-difficulty route, the Brandalm-Hängebrücke hike near Längenfeld is a popular tour tip. And if you're craving a high-alpine adventure, a tour of the Wildspitze is guaranteed to be the highlight of your mountain sports vacation.
History, culture, and nature perfectly combined. The themed trails in Ötztal invite you to explore the Tyrolean mountain scenery on joint discovery expeditions with the whole family. During exciting hikes, you will gain impressive insights into the delights that the valley has to offer. This is hiking fun for young and old. As an easy tour, the Winkelberg-Längenfeld riddle trail is perfect for families with small children. The themed trail Brand-Burgstein waterways is also a popular destination for people looking for a family-friendly hike.
Safely to your destination. The certified hiking and mountain guides in Ötztal will take you on unforgettable tours and are the perfect companions for your next alpine adventure. Since they know the valley like no one else, they will also make sure that you return safely and happily to the foot of the mountains. At the alpine schools Alpin-Guide and Activsport Alpin you are at the right address.
Explore the landscape on two wheels. Through the picturesque valley, over breathtaking peaks, and past crystal clear waters: Ötztal is guaranteed to offer the perfect route for your next biking adventure.
An experience in a class of its own. Follow the Ötztal bike trail through the entire valley and discover the diversity of the region on this unforgettable tour. A nature experience with guaranteed special moments for you.
Very special bike moments. If you're looking for thrilling action, you've come to the right place. Ultimate biking adventures with the right trail for every taste await you in the Bike Republic Sölden.
Diverse and breathtaking. With a network of over 850 km (528 miles) of
mountain bike trails
, you're guaranteed to find what you're looking for in your next cycling adventure.
Fun in cool waters. From idyllic mountain lakes to swimming pools and leisure facilities, you will find plenty of options to ensure a refreshing cool down on a hot summer day. Unforgettable moments full of joy for young and old are waiting for you.
Idyllic natural jewel near Oetz. Surrounded by forests and with a view of the mountains, Piburger See (Lake Piburg) is the perfect destination to enjoy a hot summer day.
Längenfeld outdoor swimming pool
Swimming fun for young and old. The spacious sunbathing lawn, a separate children's pool, and the water slide make your visit to the Längenfeld outdoor swimming pool an eventful family experience.
Umhausen natural swimming lake
A paradise for children. The perfect place to enjoy a hot summer day with the family. The diving platform, a beach volleyball court, and the playground offer numerous options for a fun day at the Umhausen natural swimming lake.
Unveil your brave spirit.
A unique mix of thrills, breathtaking nature, and unforgettable experiences. Exciting outdoor activities that will make your heart beat faster and your pulse rate go up are waiting for you. In Ötztal you can test your limits. Adventure is calling, what are you waiting for?
Adrenalin kick between rocks and water. Canyoning is the perfect sport for you if you are craving an adrenalin rush on vacation. Conquer the gorges, waterfalls, and mountain streams in Ötztal. The highlight for an action-packed summer.
Your white water adventure in Ötztal. Adventurous vacationers can look forward to spectacular water sports moments. Feel the power of the water and look forward to a varied outdoor experience with maximum action.
The largest outdoor leisure park is waiting for you. A diversified offer with a whole load of action. If you are looking for adrenaline-packed activities, you will definitely find what you are looking for at
Area 47
.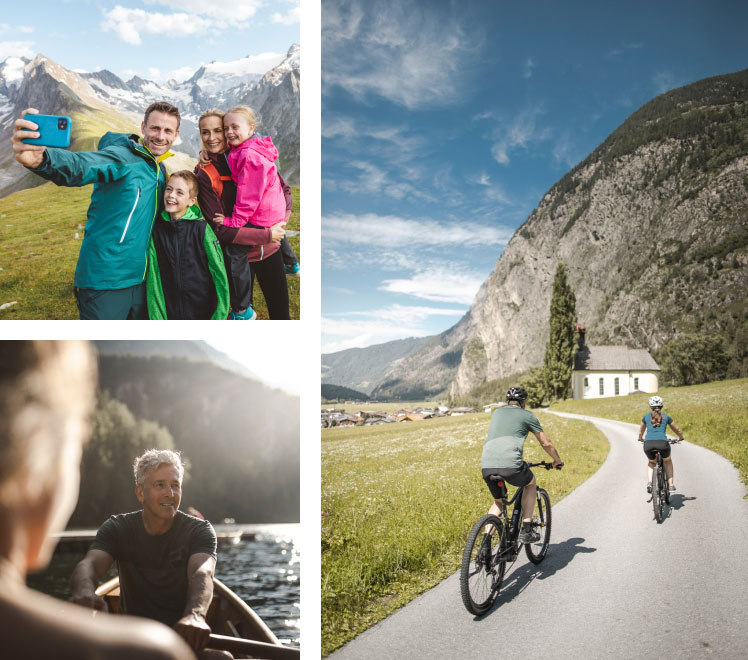 Special prices for your special vacation experience. Individual packages with numerous extras are waiting for you. Find the perfect offer to spend a carefree vacation based on your wishes. From relaxation to adventure and fun, this is where vacation wishes come true.