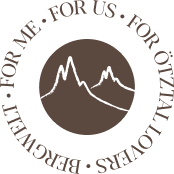 A colorful interplay of bright gold, soft orange, and warm red. This is what fall looks like in Ötztal. The breathtaking scenery invites you to unforgettable excursions in nature. It is the perfect time for a climbing vacation in excellent conditions or a fantastic bike tour through the valley and rustic cabins. Let yourself be enchanted by the beauty of the moment.
The Ötztal valley – a true Eldorado for hiking lovers, adventure seekers, and climbing enthusiasts. Fantastic views, unique rock faces, and challenging routes make the area an excellent setting for your next climbing experience. Several climbing parks and routes offer the right terrain for every difficulty level. Experience the unforgettable in the midst of nature.
A paradise for climbing fans. With a total of 19 climbing parks, fantastic routes await you in Ötztal, which you are guaranteed to remember. Amateurs and pros alike will find the perfect challenge here.
Spectacular experiences. Discover one of 8 via ferratas in the valley and make unforgettable memories during this adventure. Amateurs and pros alike will find the perfect via ferrata in Ötztal to put their own strength and skill to the test.
If the weather does not play along, climbing enthusiasts will get their money's worth in our area. Various bouldering and climbing halls invite you to discover your next route and to master new climbing challenges.
Experience Tyrol in all its versatility. Explore new places, admire mysterious natural wonders, and marvel at fascinating cultural treasures. The huge selection of multifaceted excursion destinations holds unique experiences in store for you. Experiences that you will remember long after your vacation is over.
Leave your worries behind, relax, and recharge your batteries. The 10 recharge locations in Längenfeld take you to very special places and offer you the perfect setting to leave your worries behind and escape from everyday life. Enjoy the peace and comfort and recharge your energy reservoir.
Vacations with a focus on wellness. Are rest and relaxation the top priorities for your vacation? Then the Aqua Dome Thermal Bath is definitely worth a visit. Recharge your batteries and find peace. As a hotel guest, you get a 10% discount on your admission to the spa.
On the trail of James Bond. At an altitude of 3,048 m (10,118 ft), you can discover unique insights into the classic elements of a James Bond movie. At 007 Elements, a series of interactive high-tech galleries give you a glimpse behind the scenes. Immerse yourself in the fascinating universe of the famous secret agent.
Explore the landscape on two wheels. Through the picturesque valley, over breathtaking peaks, and past crystal clear waters: Ötztal is guaranteed to offer the perfect route for your next biking adventure.
An experience in a class of its own. Follow the Ötztal bike trail through the entire valley and discover the diversity of the region on this unforgettable tour. A nature experience with guaranteed special moments for you.
Very special bike moments. If you're looking for thrilling action, you've come to the right place. Ultimate biking adventures with the right trail for every taste await you in the Bike Republic Sölden.
Diverse and breathtaking. With a network of over 850 km (528 miles) of mountain bike trails, you're guaranteed to find what you're looking for in your next cycling adventure.
A ski tour is the perfect combination of a sports challenge and a magical way to experience nature. It is a journey through shimmering snowy landscapes and majestic mountain peaks. Ötztal offers the perfect backdrop for people who are longing to feel free and are looking for a fun adventure.
From easy to challenging, you're guaranteed to find the perfect route for your next ski tour. You can pick from a wide variety of options, including one-day tours, high-altitude and glacier tours, and multi-day ski touring classics.
Cabins and refreshment stops
Tyrolean delicacies and cozy overnight accommodations. The Ötztal valley features plenty of cabins that perfectly round off your touring experience. For a well-deserved refreshment after a strenuous tour or as a stopover for a multi-day tour, the cabins offer exquisite food and drinks as well as breathtaking views of the unique mountain panorama.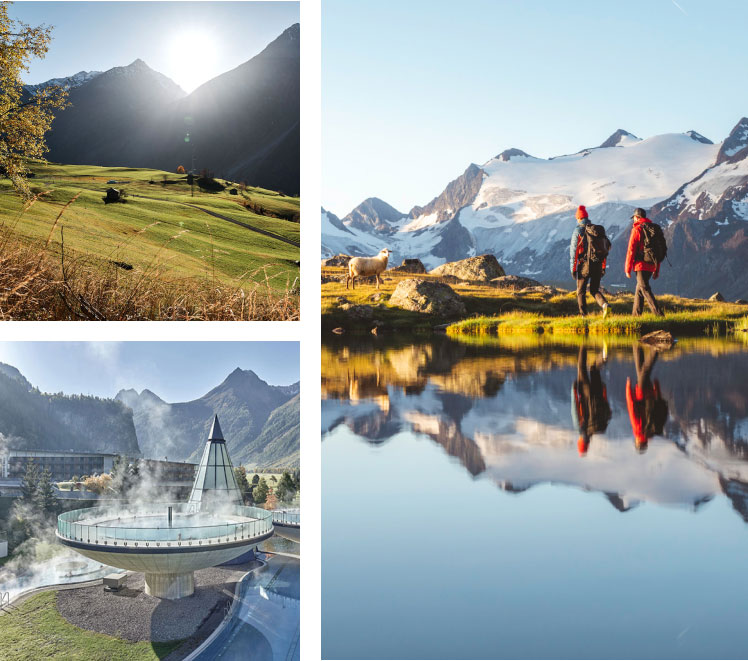 Special prices for your special vacation experience. Individual packages with numerous extras are waiting for you. Find the perfect offer to spend a carefree vacation based on your wishes. From relaxation to adventure and fun, this is where vacation wishes come true.