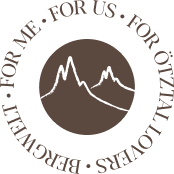 4-star hotel in Längenfeld
The Bergland is a true jewel in the Ötztal Alps. Nestled in the breathtaking mountain scenery, our hotel offers a stay beyond comparison that harmoniously combines luxury and closeness to nature.
Who we are. Let us introduce ourselves: We are a passionate team with a lot of heart and soul, who will make sure that you spend an unforgettable time with us. If you have any questions or concerns, we are always ready to listen. And since we are proud Ötztal residents ourselves, you are also in good hands when it comes to insider tips and information about the region. We look forward to getting to know you!
Family vacation in Ötztal
A get-together that you will remember forever. Ötztal is the perfect destination to experience a unique getaway with your loved ones. The Sunneseita suite, the Melisse vacation apartment, as well as the Rosmarin vacation apartment create the perfect setting for an unforgettable vacation, complete with an eventful vacation program. The playground in the garden invites kids to play outside and the games room in the hotel provides fun and games in case of bad weather. Our colorful collection of games guarantees entertaining hours for young and old.
Environ­mentally conscious
Green ways for future days.
Travel sustainably and enjoy consciously. Your vacation with green consciousness. To offer you an environmentally friendly experience, we rely on renewable energies. By using our photovoltaic and solar systems, we actively contribute to the reduction of our carbon footprint. In front of the hotel, you will also find two e-charging stations. The use of public transport is also free of charge for our guests from the first to the last day of their vacation. At the Bergwelt, you can enjoy an environmentally friendly break with a clear conscience.
The way to your holidays.
Located in the middle of the Tyrolean Alps, our Hotel Bergwelt in the center of Längenfeld is the perfect starting point for an unforgettable vacation. The central location gives you flexibility in planning, so you can arrange your time in Ötztal exactly according to your wishes.
We are always looking for motivated employees. Would you like to become part of the Bergwelt family? Send us your application.
Hotel Bergwelt
Grüner Johannes GmbH
Au 135. A-6444 Längenfeld/Ötztal
Tel. +43 5253 5301
Email: hotel@bergwelt.at
Alternatively, you can use our online application form.